1
Do Sexy Positions Really Add Fun to Sex — We Think So!
Keeping your love life hot and spicy is one of the top goals that we have in a relationship. When things arenít steamy between the sheets, it gets to a point where things can really run cold in a relationship. Now, we're definitely not going to say that sex is the only thing that matters in a relationship, but it definitely is one thing that can really change the entire direction of a relationship. Keep in mind that sex is a good way to connect and bond with your partner. So if you feel like you're not getting good sex at home, you will need to speak up. It can only cause a lot of resentment and doubt if you don't do this, because it will eventually come out that youíre unhappy.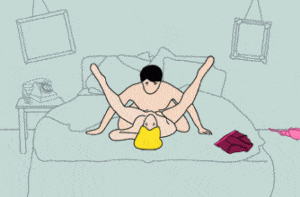 But let's get back to the fun stuff, shall we? You see, there are tons and tons of ways to make sex interesting. One of the classic problems that we see couples falling into is that they have a handful of positions that they really like — and some couples even just stick to one position over all others. This is something that might make you happy for right now, but what if you really want to go and get something different going on in your relationship?
As always, you will want to make sure that this is a joint effort. If you're ready for something new and your partner really isn't, then you're going to have some problems. This would still be the case even if the roles were switched, so don't think that we're trying to talk about the two genders here differently or anything like that.
What we really need are new positions that get us excited about sex again. And if you're running out of ideas, we believe that we have some new ones for you.
One of the easiest ways to really get things going hot and heavy in the bedroom is to increase the level of eye contact that you enjoy with your partner. All of the sexual responses that we feel usually start with what's happening between the ears. In other words, if you're really in the mood, it'll show in your face. And there's really nothing hotter than being desired by the person you really wan t to have sex with!
If you're trying out something new, you can always have your partner put her legs on your shoulders. Increasing/decreasing the angle of penetration is going to bring in new sensations that you probably never even thought about before. On the man's side, he'll love being able to actually feel your soft skin in his hands as he's penetrating you. That's a very erotic thing, and you definitely should make sure that you try it for yourself!
We're not done, of course. If you're feeling adventurous, you can also let your man take you from behind so that he gets a different view — and you get to really let loose by moving around. Sometimes when we know that our partner can't see our face, it's easier to let yourself get in the moment, so to speak.
Let's not forget to bring in the sex furniture, right? Right! If you're having bad sex right now, it might be a matter of angles and positions. Don't be afraid to bring in pillows to boost you as your man is on top — or even when he's on the bottom! It's a free world, you know!
If you haven't incorporated mutual oral sex (69 position) into your sexual bag of tricks, you really might want to think about doing so. It's a hot way to really make sure that both of you are satisfied, and it can lead to a lot of pleasure from both sides. It's going to be up to you to really figure out how to make the most of it. Don't forget — just because your face is in between your partner's legs doesn't mean that you can't have a good time and really have a lot of fun with your hands!
There's some fun to be had with chairs as well — you can entice him with foreplay that involves undressing really slowly in a chair. Or you can switch it up and undress him in the chair, even to the point where you get on top after you finish stripping him down.
There are specialized items of sex furniture, but there's nothing that says that you have to get it. You can always just settle for using chairs, sofas, recliners, and just about anything else in your house that's nailed down properly.
What if you want to go with that specialized furniture we've talked about earlier? Well, you do have some options here. The 800-lb gorilla of this category would definitely have to be Liberator furniture. It's designed specifically to be bedroom furniture that helps you pull off some really hot positions. Is it going to be the end all be all? Not really. It's all about what you and your partner take out of the experience.
Overall, there is a LOT of neat and interesting sex positions to cover — far too many for just one guide! We really do hope that our notes here give you inspiration to have fun! Good luck out there!